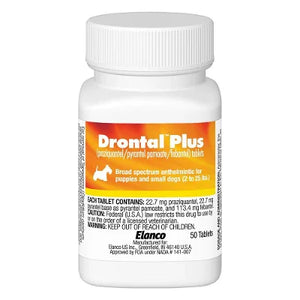 Drontal Plus For Dogs
Drontal Plus for Dogs
Dogs are prone to intestinal worm infections due to various reasons. Drontal Plus is an effective formula to treat and prevent gastrointestinal infection in dogs. It treats intestinal worm infections and successfully removes worms like roundworm, whipworm, hookworm, and tapeworm. Given on a regular basis, it keeps your dog healthy and free from intestinal worms and other diseases caused due to worms.
Drontal Allwormer for Dogs
A proven and trusted product by Bayer, Drontal Plus for dogs is a perfect option for treating various kinds of gastrointestinal worms. The active ingredients present in this wormer effectually kill all stages of worms and further protects the dog from infection. Available in tasty flavors, Drontal is the right option for safeguarding your pet from various intestinal parasites.
Tablet* - Sold in Single Doses
***Drontal tablets will be shipped with a pack insert in sealed polythene. One tablet quantity does not mean one bottle.
Manufacturer - Bayer

Dosing Information